Website  ■  Blog  ■  Donate  ■  Scholarships
---
Newsletter:
Fall 2017
---
We were happy to welcome this last October a group of new young students, who constitute our sixth Cohort. These students – from Israel, the U.S., Canada, England, Poland, Germany, Bulgaria, Romania, Russia and Ukraine, will be studying with us for the next 12 months, touring Holocaust related sites, interning at museums, schools and research centers and working on their own independent research. We look forward to sharing their meaningful year with you all in our
blog
and newsletters.
We are happy to share with you some of the highlights of the last few months, as well as to let you know what to expect in the coming months. We have a very exciting year ahead!Please let everyone know that we are now accepting applications for the 2018-19 academic year and are on the lookout for excellent and motivated students. Please share our newsletter and help us reach those who are committed to the research and study of the Holocaust.
Prof. Arieh J. Kochavi & Dr. Yael Granot-Bein
---
Program News
---
Cohort V Student Reflects on Her Life Changing Year
It has already been three months since we said goodbye to Cohort V. Our student Mallory reflects on her life changing year, shares her plans for the future, and gives advice for the students of Cohort VI…
---
Iternational Internship Announcement
---
Each year students of our program are encouraged to apply for our prestigious intenational internships. They are an amazing opportunity for our students to gain professional, hands-on experience while networking, paving the way for their future careers in the field of Holocaust Studies. Students are given a scholarship from the Weiss-Livnat International MA Program in Holocaust Studies to help cover their accommodation and airfares. We are proud to announce the students who will be undertaking our internships this academic year!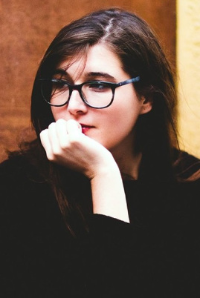 Jasmine Munn-McDonnell, Cohort V
The Wiener Library for the Study of the Holocaust & Genocide, London
What inspired you to apply for our international internships and what makes you most excited about interning at the Wiener Library in London?
I would have been crazy to not apply for this round of international internships. One of the things that most attracted me to this program before applying was the partnerships with world-class museums and institutions. To gain professional experience abroad on top of the MA was an opportunity that was not to be missed! I am excited to intern at the Wiener Library specifically because it has such a rich and fascinating history. The library was founded in 1933 and was in operation during the Holocaust. The library's mission today of supporting research, learning, teaching and advocacy about the Holocaust and genocide is important and something that I am passionate about. And, needless to say, I am excited to spend five weeks living in London!
What kind of work will you be doing at the Wiener Library?
At the library, I will be working on numerous projects. I will be working with the Library's social media and helping with the launch of their new website and Facebook page. I will be in London for International Holocaust Remembrance Day, and at that time of year, the Library holds a debate for young people, which I will be helping to formulate questions for. Also while I am interning, the Library and the University of London are running a conference entitled Beyond Camps and Forced Labour: Current International Research on Survivors of Nazi Persecution, which is something that I will be helping out with.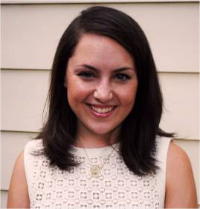 Hana Green, Cohort V
Virginia Holocaust Museum, Richmond
Hana will be working under the supervision of the museum's Senior Historian, Dr. Charles Sydnor, and with Director of Education, Megan Ferenczy, on several educational projects and educational outreach programs. Additionally, she will be helping out with tours and the ongoing care and upgrading of exhibits during her time at the Virginia Holocaust Museum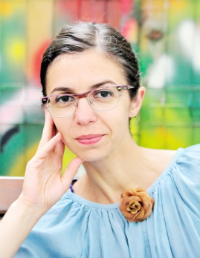 Eugenia Mihalcea, Cohort V
POLIN Museum of the History of Polish Jews, Warsaw
Eugenia will be working on a project at the museum that involves using oral testimony from the USC Shoah Foundation to create IWalks (video segments that can be used on guided tours to provide historical context to sites).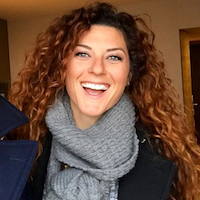 Mallory N., Cohort V
The United States Holocaust Memorial Museum, Washington D.C.
Mallory will be completing a fellowship at the Jack, Joseph and Morton Mandel Center for Advanced Holocaust Studies. Her research is titled: "The British-American Diplomat and the Lithuanian Nationalist: The relationship of John Mazionis and Stasys Žakevičius during the years 1939-1961".
Rotem Zilber, Cohort IV
The Jewish Museum in Budapest
Rotem will be interning at the Jewish Museum in Budapest, focusing on Holocaust education. Rotem, a teacher, will enhance her skills as a teacher by working in a different cultural setting
---
Dr. David Hirsh Speaks about Contemporary Left Antisemitism
The Weiss-Livnat International MA Program in Holocaust Studies had the pleasure of hosting Dr. David Hirsh, a Senior Lecturer in Sociology at Goldsmiths, University of London, who spoke about the subject matter of his new book: Contemporary Left Antisemitism. Hirsh's book covers a range of issues surrounding contemporary left antisemitism in the United Kingdom…
Alumni Activities
Congratulations to Mallory (Cohort V) and Lindsay Shapiro (Cohort III) who recently presented their research at the Seventh International Conference for Jewish Studies Researchers in Warsaw. Mallory's presentation was titled "Through the Decades: The Jewish Perception of the Great Provocation and its Aftermath", and Lindsay presented on "Polish Immigration to Israel during the Polish Anti-Zionist Campaign 1967-1970".
---
Welcoming Cohort VI
---
On 12 November, Doron Livnat, the son of Yitzhak Livnat, and his wife Marian visited and welcomed Cohort VI to the program. Regrettably, this is the first cohort since the creation of our program who did not have the opportunity to hear Yitzhak speak. We are so thankful to have had Yitzhak as a dear friend and partner.
The Livnat family, through their generosity, continues to impact our program and students. Their annual donation allows students from different countries to spend a year in Israel and dedicate their time and energy to researching the Holocaust. We are forever grateful to Honorary Dr. Livnat and his wife Marian for their continued support. We will never forget Yitzhak and his legacy and promise to carry it on.
Holocaust Survivor Micha Gelber and his wife also joined Doron and Marian. Micha shared his story with Cohort VI.
Read Micha Gelber's story here
---
Meet Cohort VI
---
Olga Kartashova, Russia
MA in Comparative History and Jewish studies at the Central European University in Budapest.
My main interests in the field are the history of the Holocaust in Poland and in the USSR and its aftermath, memorialization, politics of memory, mythology, historiography, and war crimes trials in Eastern Europe.
I am interested in how Jewish, Polish and Soviet agencies together with Nuremberg Tribunal formed the memory of Holocaust and helped to remember/forget the crimes connected to Nazi death camps in Poland.
Andreea Camelia Tudor, Romania
B.A English and Romanian literature, University of Bucharest; MA in Jewish Studies, Paidea University, Sweden.
Everything started with a poem. I was a first year Bachelor's student studying literature at the University of Bucharest and I came across Paul Celan's famous Death Fugue. I had read it thousands times before, but did not internalize it until that moment of clarity. My interpretative lenses changed in that moment. I was repeating and combining the phrases and realized how vividly Holocaust imagery plays in my head. Years passed by and I found myself driving indirectly towards researching the Holocaust in Romania.
Read more about Olga and Andreea here
---
What to Expect This Year
---
The Ghez Collection Catalogue and Exhibition
In 1978 Dr. Oscar Ghez, a Swiss art collector, donated his collection of works of art by artists who perished in the Holocaust to the University of Haifa. Consisting of paintings, watercolours, drawings and scultures, the collection includes over 130 works by 18 artists who lived and worked in Paris before the Holocaust. Arrested by the Nazis and their French collaborators, many of these artists were interned in the transit camps of Drancy, Gurs, Compiègne before being deported East to death camps. Ghez conceived of the collection as a memorial to artists who perished in the Holocaust, but it is also an important record of their lives and creativity.
In 2017 the students of Cohort V worked with Dr. Rachel Perry, researching these 18 artists and compiling a new catalogue of their works.
We are proud to share the digital version of the catalogue, which is available to view online here.
In the Spring of 2018 we are excited to be opening an exhibition of the Ghez Collection of Jewish Artists Who Perished in the Holocaust in the Hecht Museum at the University of Haifa. Students of Cohort VI will have the opportunity to work with Dr. Rachel Perry as an internship curating and installing the exhibition.
---
Jagiallonian University
Our program enjoys a close cooperation with the Jagiallonian University in Krakow, Poland. We have hosted Dr. Edyta Gawron for a series of lectures on the Jews of Poland and our students were hosted by Dr. Ewa Wegrzyn and her students. This year through the EU program of Erasmus, we will host professors from the Jagiallonian University and facilitate student's exchange between the two institutions.
Heritage Museum
We are pleased to share with you our new partnership with the Jewish Heritage Museum in New York. From 2018 students will have the opportunity to undertake 4-8 week internships at the Jewish Heritage Museum in New York as well as at their partner institution, the Auschwitz Jewish Center in Poland or New York.
Multi-disciplinary Courses
As well as providing our students with a strong historical foundation of the Holocaust, students of our multi-disciplinary program have the opportunity to enrol in a wide range of courses that cover a number of academic approaches. Some of the multidisciplinary courses offered to our students this year are…
Faculty Feature: Prof. Stefan Ihrig
Professor Stefan Ihrig received his BA degree in Law and Politics at the Queen Mary University in London, his MA degree in History, Turcology and Political Science at the Free University of Berlin and his PhD in History at the University of Cambridge….
Faculty Feature: Dr. Carol Kidron
Dr. Carol A. Kidron is a senior lecturer in the Department of Sociology and Anthropology at the University of Haifa. She teaches Anthropology of Memory, Trauma and Commemoration in the Weiss-Livnat International MA Program in Holocaust Studies…
---
Website  ■  Blog  ■  Donate  ■  Scholarships
---
THANK YOU
for supporting the International MA Program in Holocaust Studies at the University of Haifa. We are proud to have friends and followers around the world!
---
Interested in applying for our MA in Holocaust Studies Program?  You can find the application and more information at our website: http://holocaust-studies.haifa.ac.il/